SHOP PLANT-BASED SKINCARE PRODUCTS ONLINE IN SINGAPORE
Plant-based skincare products are a great alternative to traditional skincare products. They are free from harmful chemicals and contain natural ingredients that help to improve the skin's health. Other than being generally gentler on the skin and causing fewer side effects, plant-based skincare products are also more sustainable as they can be sourced from renewable resources. 

At BIOEFFECT, we use as few as 7 to 20 clean ingredients combined with plant-based Epidermal Growth Factor (EGF) and pristine Icelandic water so you can enjoy the purest and best products. As a skincare brand backed by science, our products are designed to help you achieve beautiful, healthy skin. So whether you're looking for a serum to help reduce wrinkles, a moisturiser to hydrate your skin, or a mask to destress and relax, you can be confident that BIOEFFECT will deliver the results. Shop our plant-based EGF skincare products online or in our BIOEFFECT stores across Singapore now! Free delivery is available for orders above $100.
BIOEFFECT PLANT-BASED EGF SKIN CARE IN SINGAPORE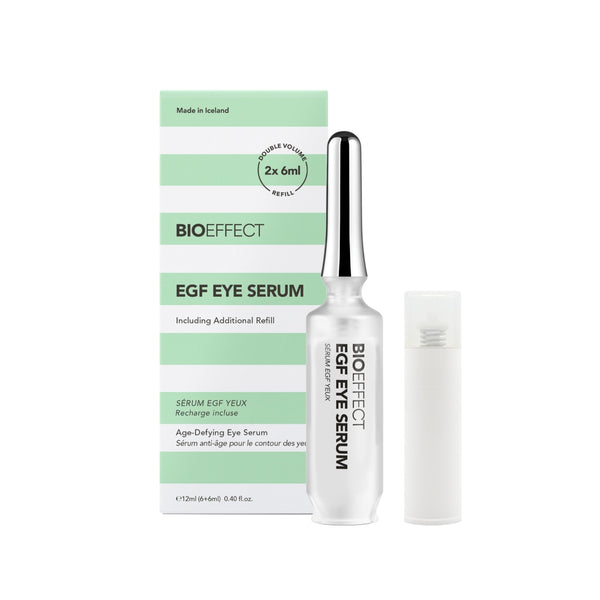 What customers say about us
ABSOLUTELY AMAZING
"I love the BioEffect EGF Serum! I have normal to oily skin prone to hormonal breakouts around my jawline. This serum has helped control the occasional breakout and does not clog my pores. My skin is clear and glowing. I would highly recommend the EGF serum." - Abby
THE BEST SERUM I'VE TRIED
"I've been using Bioeffect EGF Serum about one month and I must say I've begun seeing improvement in my complexion. I'm 65 years young and very happy with the results. The redness, fine lines, wrinkles, and texture of my skin has already improved. I use the EGF Serum 2 times a day after cleansing and am excited to see how much better my complexion will be after another month! I will definitely keep buying this serum.." - Nancy
EXCELLENT MOISTURIZING YET LIGHTWEIGHT
"The BioEffect Hydrating Cream is an excellent moisturizer without being heavy or greasy. It just works!! My aging, dry and sensitive skin responds so well to the BioEffect Hydrating Cream. I pair it in the evening with the BioEffect serum and my skin is ready for sleep. I am thrilled that I have found these BioEffect product line and will remain a regular and enthusiastic user." - Dogmom3
BRINGING ICELANDIC CLEAN BEAUTY TO SINGAPORE
From the glacial waters of Iceland, BIOEFFECT is a clean beauty, anti-aging skincare brand using plant-based EGF skincare for younger-looking, healthier skin. BIOEFFECT's mission is to restore your skin's vitality and maintain the look of youthful skin with the visible anti-aging benefits of plant-based EGF skincare. We only use ingredients that are truly necessary, pure, clean, safe and effective.
In 2010, BIOEFFECT launched its first luxury skin care product, the award-winning BIOEFFECT EGF Serum. We've since expanded to a variety of different products, such as eye care and body care products.  Remind your skin how to look and act young again with the anti-aging power of BIOEFFECT EGF Skin Care. BIOEFFECT's plant-based EGF skincare products are now found online and in BIOEFFECT stores throughout Singapore.
PLANT-BASED EGF SKINCARE BRAND BACKED BY SCIENCE
Backed by decades of biotech EGF skin care research, BIOEFFECT invented a way to produce EGF growth factor proteins from barley grown in an ecologically-engineered greenhouse in Iceland. We use cutting-edge biotechnology to produce the world's first plant-based EGF that's safer, purer, and more stable to ensure that your skin only gets the best. Our barley is nurtured in inert volcanic pumice, and uniquely pure Icelandic water. BIOEFFECT's Greenhouse located in Iceland's Reykjanes UNESCO Global Geopark uses Icelandic water purified by inert volcanic lava and enriched with natural nutrients. The resulting water is soft, and is less likely to leave your skin or hair irritated or dried out by mineral deposits. Our plant-based EGF skincare products are gentle on your skin to help you get your youthful confidence back.
DISCOVER THE POWER OF BIOEFFECT EGF SKIN CARE
Unsure where to begin your BIOEFFECT EGF Skin Care journey? Our BIOEFFECT Skincare Guide uses personalised questions to curate the ideal BIOEFFECT product for you. Or try our signature award-winning BIOEFFECT EGF Serum. Our EGF skincare products are suitable for daily use to help reduce signs of aging in the skin, including wrinkles, fine lines, and pigmentation. The EGF Essentials Skincare Gift Set is another ideal introduction to our range of products, and makes a great gift for the skincare enthusiast in your life.