AWARD WINNING PRODUCT
BIOEFFECT

EGF Eye Serum
BIOEFFECT EGF EYE SERUM is a revitalizing age-defying eye serum, specifically developed to target the delicate skin around your eye area. Minimizes the appearance of fine lines and wrinkles, reduces puffiness, rebalances moisture levels and leaves the skin looking radiant and firm to restore your confidence.

6 mL/ 0.20 oz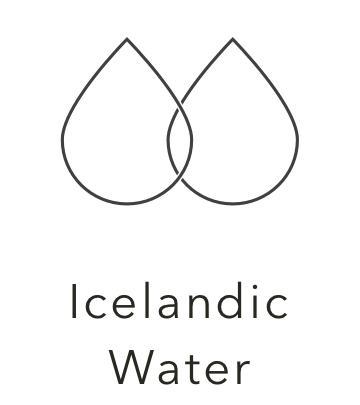 Reduces the appearance of fine lines and wrinkles around the eye area
Reduces signs of fatigue and under-eye puffiness
Provides radiance and firmness to invigorate and rejuvenate your skin
Lightweight and easy to apply with stainless steel roller serum applicator
Suitable for all skin types
Fragrance-, alcohol-, and oil-free

Size: 6 mL/ 0.20 oz.
Press gently on the dispenser base to release a pea-sized amount of serum and apply the cooling roller ball to clean skin above and below the eye. Massage gently with fingertips for even penetration. Wait 3-5 minutes to allow the serum to absorb before applying sunscreen or makeup. Can be used for day or night application.
WATER (AQUA), GLYCERIN, BUTYLENE GLYCOL, CARBOMER, SODIUM CHLORIDE, PHENOXYETHANOL, SODIUM CITRATE, SODIUM DEHYDROACETATE, SODIUM HYALURONATE, BARLEY (HORDEUM VULGARE) SEED EXTRACT, EGF (BARLEY SH-OLIGOPEPTIDE-1)
Pairs Best With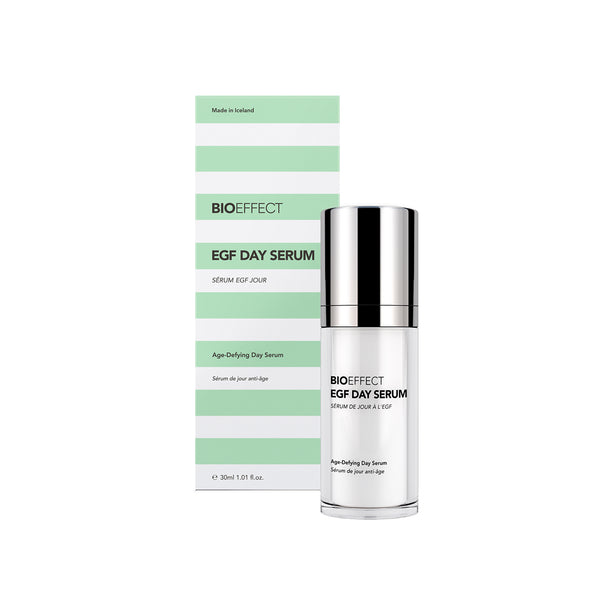 $202.00 SGD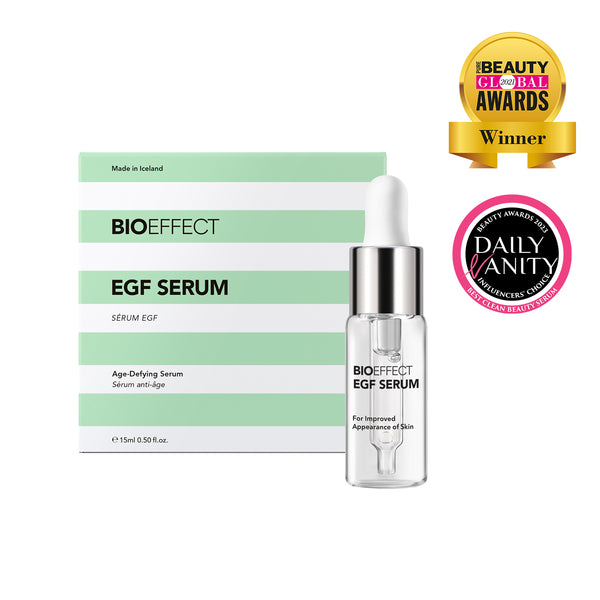 $234.00 SGD
SKIN CARE BACKED WITH SCIENCE
SKIN CARE BACKED WITH SCIENCE
The Bioeffect EGF Eye Serum uses a plant-based EGF (Epidermal Growth Factor) to help reduce wrinkles and fine lines around your sensitive eye area. EGF naturally occurs in human skin, and helps to boost collagen and elastin production leading to a youthful, healthy glow. As we age, the amount of EGF produced by our skin naturally decreases, leading to signs of aging including wrinkles, fine lines, and pigmentation.
Our eye area, where the skin is thinner and more sensitive, can reflect these signs of aging faster than the rest of our face. Bioeffect's barley-based EGF helps to replace the EGF produced by our cells, to hydrate and moisturize your eye area and reduce visible signs of aging. Our lightweight serum is soothing to the skin, and targets common signs of aging including wrinkles. Find out more about how our plant-based and scientifically-backed skin care philosophy restores your youthful glow and confidence.