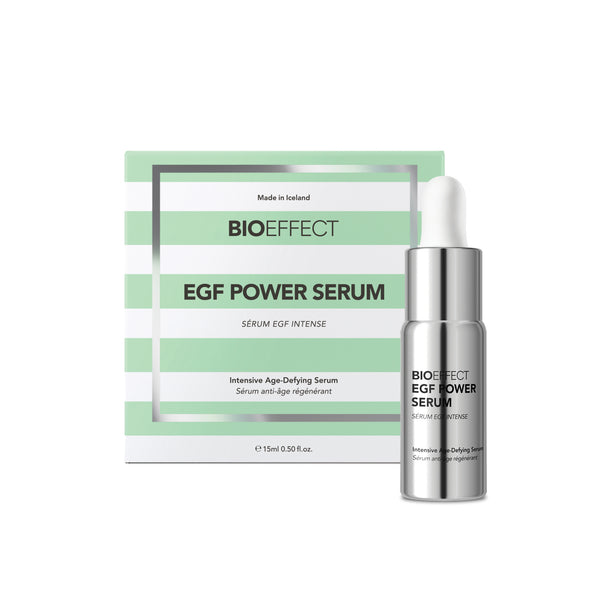 AWARD WINNING PRODUCT
BIOEFFECT

EGF Power Serum
A new and intensive age-defying serum designed to support skin barrier function and brighten the complexion while targeting key signs of aging, including wrinkles, hyperpigmentation, and dehydration. The highly effective formula of only 12 ingredients features our signature Barley EGF, Barley KGF – a fortifying signaling protein that promotes the skin barrier – along with Hyaluronic Acid and NAG.
Features and Benefits

A New Powerful Serum for an Intense Age-Defying Benefit.

Introducing the new EGF Power Serum – a highly-effective serum specifically developed to target visible signs of skin aging. The new and advanced formula in the world of age-defying skincare features a combination of only 12 ingredients, handpicked by our science team to deliver intense results. Clinical studies have shown that the EGF Power Serum improves 5 key signs of aging by up to 50% or more. This remarkable serum tackles dryness, UV-induced pigmentation, wrinkles, thinning, and sagging skin, while supporting the skin barrier. The unique complex includes our signature Barley EGF (Epidermal Growth Factor), Barley KGF (Keratinocyte Growth Factor), NAG (N-Acetyl Glucosamine), and Hyaluronic Acid, working in synergy towards healthier and smoother-looking skin. EGF, KGF, NAG, and Hyaluronic Acid are powerful agents naturally found in skin and vital to skin health. The result is an intense formulation delivering a strong anti-aging effect.

Visible Reduction in the Appearance of Wrinkles & Fine Lines

Improves Skin Elasticity and Density, Skin Appears Firmer and Plumper

Diminishes the Appearance of UV-Induced Pigmentation

Improves Skin Barrier Function and Skin Hydration

Improves Skin Texture, Skin Looks Smoother and with a More Even Skin Tone

Suitable for All Skin Types, Ideal for Dry and Mature Skin

Only 12 Ingredients

Oil-Free, Alcohol-Free, Fragrance-Free, Paraben-Free, Silicone-Free & Gluten-Free

Hypoallergenic

Size: 15ml 0.50 fl.oz
For best results, apply 2-4 drops to face, neck, and décolleté, using circular, upwards motions. Apply in the morning and wait 3-5 minutes before applying a moisturizer, sunscreen, or makeup. Apply in the evening to clean skin for advanced skin repair while you sleep. Use on its own or layer with other BIOEFFECT products for maximum effect.
Barley EGF: A moisture-binding and skin-rejuvenating signaling protein, and the first of its kind to be produced in plants by BIOEFFECT scientists. Barley EGF promotes water retention, reducing loss of fluids from the skin. Increased moisture levels maintain skin thickness and density, reducing the depth of wrinkles. Barley EGF helps support the skin's natural collagen production to visibly improve skin density and minimize the appearance of fine lines and wrinkles.

Barley KGF: A signaling protein, naturally found in skin, that helps keep the skin barrier intact and healthy-looking. It has been shown to strengthen the skin and promote its natural repairing processes.

N-Acetyl Glucosamine (NAG) : This is a vegan, highly stable form of an amino sugar compound originally found in skin, located in the spaces between the skin cells, that is known to help support our natural Hyaluronic Acid production. Studies have shown that it brightens the complexion and minimizes the appearance of hyperpigmentation. NAG also has antioxidant benefits and helps maintain skin barrier integrity, elasticity, and addresses skin dryness by sealing in moisture.

Hyaluronic Acid: A vital substance naturally found in skin, critical for maintaining skin hydration. Known for its incredible capacity to attract and hold vast amounts of moisture. The EGF Power Serum features high-weight Hyaluronic Acid molecules to deliver immediate intensive hydration to the surface layers of the skin for an instant smoothing, plumping, and firming effect.

Full Ingredient List GLYCERIN, WATER (AQUA), SODIUM CITRATE, ACETYL GLUCOSAMINE (NAG), ISOPENTYLDIOL, PHENOXYETHANOL, SODIUM CHLORIDE, SODIUM HYALURONATE, CITRIC ACID, BARLEY (HORDEUM VULGARE) SEED EXTRACT, EGF (BARLEY SH-OLIGOPEPTIDE-1), KGF (BARLEY SH-POLYPEPTIDE-3) .

For external use only. Use only as directed. If irritation occurs, consult a dermatologist.