AWARD WINNING PRODUCT
BIOEFFECT

Imprinting Hydrogel Mask
BIOEFFECT IMPRINTING HYDROGEL MASK provides deep hydration to nourish and rejuvenate your skin. Our Hydrogel Masks are specifically designed to maximize the efficacy of EGF (Epidermal Growth Factor) in BIOEFFECT serums and are formulated with ingredients that minimize interference with growth factor activity. Now available online or in all BIOEFFECT stores in Singapore.
$126.00
($22 (1 piece) / $120 (6 pieces))
25 gr(x6) / 0.88 fl.oz
Rehydrates and replenishes skin
Boosts the efficacy of BIOEFFECT serums
Maximizes the EGF imprinting effect
Suitable for all skin types
Fragrance-, alcohol-, and oil-free
Apply a BIOEFFECT serum of your choice on clean skin to maximise absorption of EGF. Open the Imprinting Hydrogel Mask sachet and carefully unfold the mask. Remove the transparent film and place onto skin, smooth gel side down. Remove the white outer layer on the front of the mask. Leave on for 15 minutes, remove and massage any excess serum into the skin. Use nightly or whenever your skin needs a hydrating boost after a long day out in sunny Singapore.
WATER (AQUA), CAPRYLIC/CAPRIC TRIGLYCERIDE, BUTYLENE GLYCOL, C12-20 ACID PEG-8 ESTER, CETYL ALCOHOL, PHENOXYETHANOL, POTASSIUM CETYL PHOSPHATE, CARBOMER, DIMETHICONE, ETHYLHEXYLGLYCERIN, CHLORPHENESIN, SODIUM HYDROXIDE, DISODIUM EDTA, FRAGRANCE, SODIUM HYALURONATE, BARLEY (HORDEUM VULGARE) SEED EXTRACT, EGF (BARLEY SH-OLIGOPEPTIDE-1)
Pairs Best With
$130.00 SGD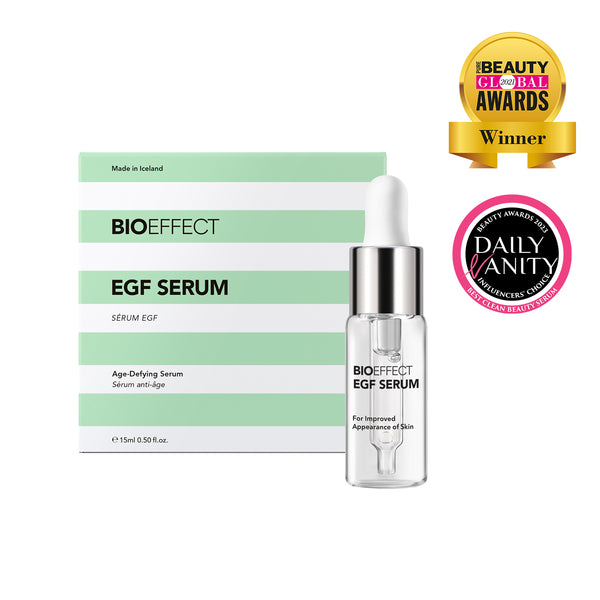 $234.00 SGD
$78.00 SGD
SUPER CHARGE YOUR EGF SERUMS
EGF (Epidermal Growth Factor) is a protein naturally occurring in human skin that boosts collagen and elastin production as well as skin hydration and thickness. The process of delivering EGF to skin cells and activating them is known as imprinting. The most important factor in imprinting is moisture, as EGF prefers an aqueous environment. The longer the surface of the skin is kept moist, the greater the imprinting effect will be. Even in tropical countries like Singapore, keeping our skin hydrated is essential to maintaining a youthful glow.
Using the BIOEFFECT IMPRINTING HYDROGEL MASK on top of our EGF serums creates the perfect micro-environment for EGF to absorb with your skin and ensures maximum results for a stunning anti-aging effect. Shop now online or in our Singapore stores to get started on your BIOEFFECT skincare journey.